'Being Aware' about the problem is first step towards solving it.
As creative activism is our motto, we resort to totally innovative way to approach the problem. We apply our skills to identify root cause of the problem and also find out the week point to target upon in order to solve the problem. And in field of environment, making people aware about the problem is the first step to let them realize the existence of issue and then we can plant a seed of solution in people's mind.
Here are few important awareness campaigns we have handled so far:
POP Idols of Ganesha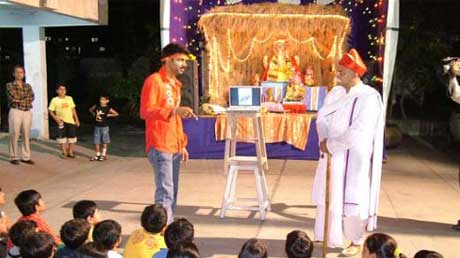 We were having on-going issue of river pollution due to POP idols of Ganesha being drowned in the river TAPI. There was complete lack of awareness and a resistance due to the obvious ease of using POP idols. Authorities were reluctant for enforcing the change due to religious sentiments emotion attached with Ganesh Utsav. Problem was huge and there was no clue with anyone for any positive change regarding the environmental solution.
At that point of time we took project of bringing awareness to people about this. As creative activism is our motto, we resorted to totally innovative way to approach the problem.
Read more
Solar Holi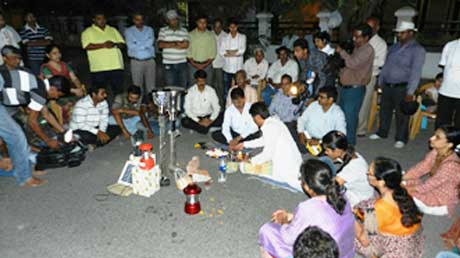 First of its kind in India, we have introduced the concept of Solar Holi. To save trees being cut in the festival of Holi; we are motivating community at large to light a symbolic lamp powered by solar energy instead of burning huge piles of wood.
In 2013 the message was taken very well and there was a visible difference in the way the holy is celebrated. People used less wood and turned towards burning alternative eco-friendly material.
Read more
Hand Puppet Show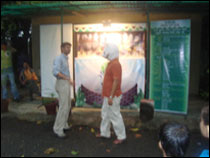 This unique puppet shows envelopes the problem of today's environment as told by the conversation of the wild animals and that between a man and a donkey. The man is blinded by his achievements in technology and science that he forgets the universal truth that the Nature is the only source of all creations on this earth. Man has just transformed the fundamentals and derived objects of his pleasure. The "rule of farm" is forgotten and the man thinks that he is omnipotent to achieve anything now, but a donkey makes him realize by telling a story of a jungle and the animals within. He then shows him the results of his "growth" and the effect on the environment and the donkey makes the man aware of the subsequent effects of the mad race on the kids of human being itself.
Read more