We were having on-going issue of river pollution due to POP idols of Ganesha being drowned in the river TAPI. There was complete lack of awareness and a resistance due to the obvious ease of using POP idols. Authorities were reluctant for enforcing the change due to religious sentiments emotion attached with Ganesh Utsav.
Problem was huge and there was no clue with anyone for any positive change regarding the environmental solution.
At that point of time we took project of bringing awareness to people about this. As creative activism is our motto, we resorted to totally innovative way to approach the problem.
Our strategy team came up with creative way of planting a seed of the eco-friendly Ganesha Idol inpeople's minds.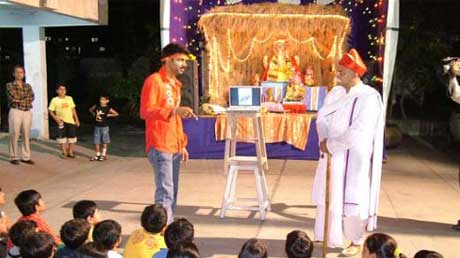 We designed a street play called, "लोकमान्य का कहना है'
This play was about talking about how this festival of Ganesh Utsavstarted and how it has ended up in being a polluter. With a subtle message loaded with humor and the live and effective script of communication between LokmanyaTilak (who started this festival) and a youngster called Munnabhai. This play has raised enough awareness and we started getting invitation from all Ganesh Pandals. We went on to perform to over hundred Ganesh Pandals, schools, colleges and community places.
Our voice was so creative that it could reach to the Ganesh UtsavSamiti, the Association for the Ganesh Utsav leaders of Surat. They invited us to perform this play in their annual meeting of City's all Ganesh UtsavMandal representatives. And that performance did the trick as we got required audience who were really going to get it to next level. And after that play, association declared that they will stop using POP idols. Authorities soon joined to officially put a BAN on POP idols.
Our idea of using ART for effective communication did the trick. The toil of designing a power packed yet very short and very direct engagement of the target audience made it happen to change a tradition of a hundred years to change in a short span of just 3 years. Creative activism at its best!